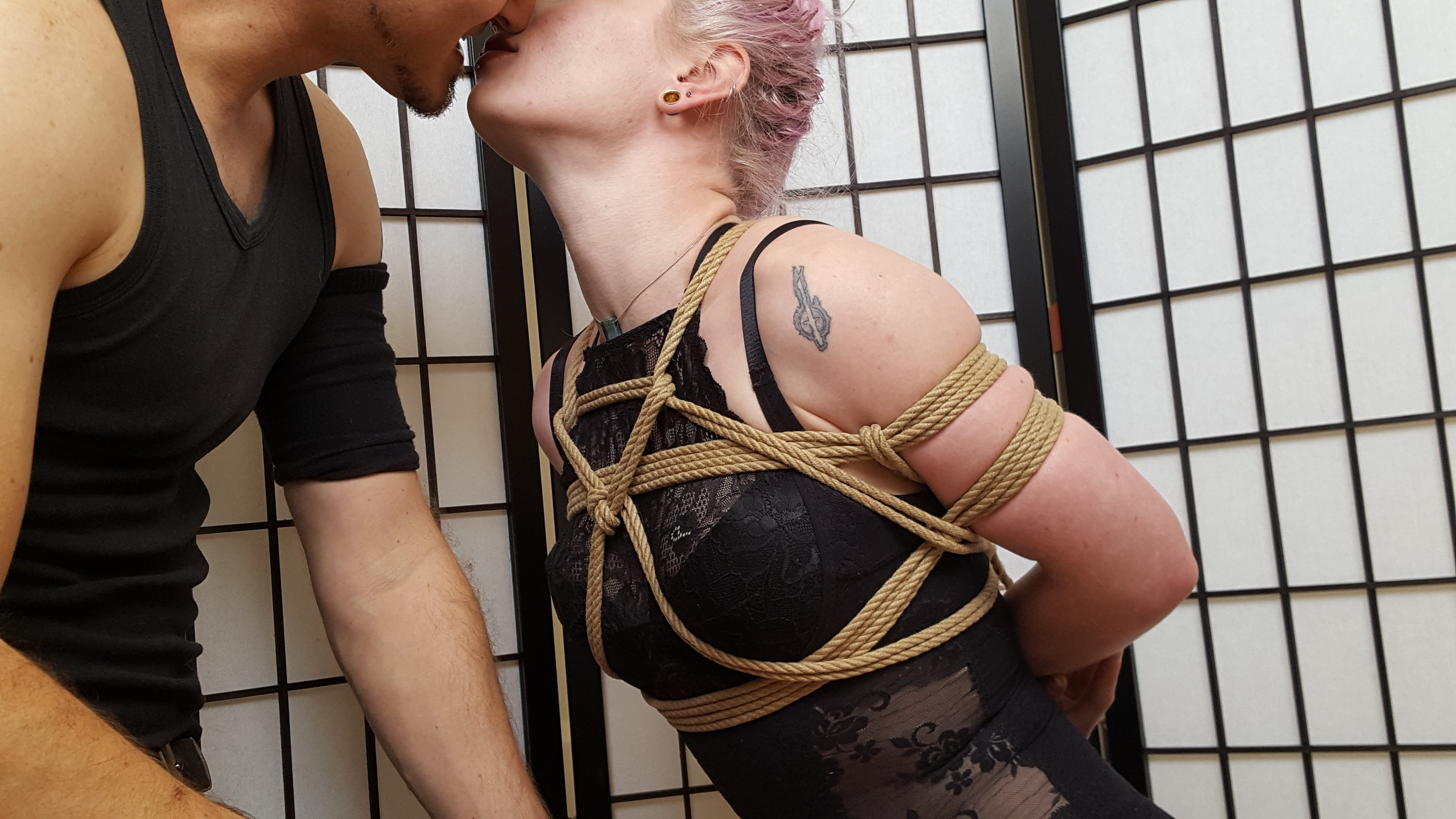 Your partner wants to get into rope bondage, and you're confused and alarmed. Don't worry; it's going to be okay. I promise.
Every now and then, I get these messages from people who want to learn about rope bondage, but their partner doesn't understand, and it's creating a problem between them. In fact, over the last several months it's become a more common complaint.
The messages are usually variations on a theme:
"Hey, I'm really interested in learning more about rope bondage and maybe in being tied up but my partner isn't keen. How do I talk to them about it or teach them more about it so that they feel comfortable? I REALLY want to try this! I feel like I need to explore this side of myself …"
Hey. It's okay. I do get it. I've been there. I used to be that very person. My partner was into rope bondage, and I was like, "umm, what? I don't know how to do that… I don't even understand it. Why?"
So today I'm writing a letter to the partners. To you, the people who are in that very situation. Your partner is curious about or into rope bondage, and you're a bit dubious. It's difficult or even uncomfortable for you, and you feel apprehensive.
Here are some useful thoughts to bear in mind, all drawn from my own experiences coming to terms with it all and learning the ropes.
It's going to be okay.
Yes, this is new and different and seems a little foreign. But that's okay; once upon a time, driving was foreign too.  So was kissing. So were lots of different things; it just takes a bit of time and practice to get your head around it. Once you have, it's pretty much like riding a bike. You have new understanding about an activity, and some new associated skills which you'll actually enjoy using. Plus, there are definite rewards in the form of fantastic sex.
Why is your partner into it?
Well, basically, being tied up adds a bit more intensity to all the things you're doing. When a person is helpless, or restrained, it makes absolutely everything more intense. Every kiss, every touch, magnified.
When you're tied up, you can't do anything, so having all the touching in the other person's power is a really interesting experience. See more here. So either they're keen to experience this sort of thing, or they want to give that amazing experience to someone else. Maybe they saw a movie once or read a scene in a book, and something in their head just went "click" and they thought, "hmmm… I wonder what that would be like?"
Does it mean you're not good enough in bed?
No. Not at all.
Think of it like food. Food's a great sensory experience, just like sex, so this makes a pretty good metaphor.
You can enjoy the fuck out of pizza and icecream and other really tasty foods. They're amazing. They're brilliant.
But every now and then it's nice to get some variation. Maybe you want to try adding chocolate sauce to your icecream. Maybe it's been on your mind for awhile, and you really want to try it. Or maybe you want to try a slightly spicier sauce on your pizza, just to see how that changes things.
It"s the same principle, only applied to sex. Taking what's already good, and adding a little something more. Your partner wants to get into rope bondage, and it's going to add delicious things to your sex life.
You may worry that it's not about you.
Maybe your partner just wants the bondage, and would try it with anyone. Where are YOU in all this?
If you think about it, who did they discuss this with? You.
They wouldn't have brought it up if they didn't want to explore it with YOU. Trust me, people hate being tied up by people they don't trust or don't feel safe with, and the same goes for tying someone up. That can be a horrible experience, and trust me, I know. I've been there. So have others who have written to me.
Your partner wants to take the good sex and everything they're already doing with you, and add sprinkles. They want to explore this new territory with you … and that's a hell of a fun journey. You get to learn and do and experience so much more! And you have the joys of discovering it all with your partner.
If your partner has been tied before? Or if they've done it with someone before?
Again, now they want to try it with you.
Sex with everyone is different.
Fun fact. So is bondage.
Every activity feels different, because every relationship is different. What someone does with one person is totally different than what they'll do with another. So your bondage experiences with your partner will be unique. From the outside, there may be some visual similarity in the ties… but the internal feelings and the way you interact with each other will be totally unique, individual to your relationship.
What can you get out of it?
Lots. Lots and lots and lots. If you and your partner switch roles, then maybe you'll get to experience being tied up yourself, with someone you trust, just before they do delicious things with you. Or, if your partner really wants to be tied up, then you can be the one to fulfill that fantasy. You can be the one who takes them on that journey. I can say that there is a lot of fun in that… it's really satisfying. Oh, and people look really hot when they're naked and tied up. It's a very good time… you can read more here .
Mastering the skill and getting the knowledge of it is really fun as well. And all the things you do with rope in the bedroom translates to other useful things… as an example, I'm never ever going to worry about how to tie stuff down to a trailer ever again. Tying ANYTHING becomes a lot simpler and easier.
Is it hard to learn?
Given good resources, no, it's really not.
What you need is a good resource that will not only show you what to do, but also why to do it, so you can understand all the different principles behind rope bondage and what you can use the different ties for. Something with examples goes a long way.
There are tons of videos all over the internet, people who teach in person, and Rope Bondage The Smart Way has lots of examples, case studies, and practical how-to information as well, designed for people just like you. Even reading through the different resources on this site will get you started, and remember…
I started off in exactly the same position you're in now… uncomfortable and unsure. I'm a perfect example of how things can improve, and how you can have a great time with all of this.
Think it over. Have a look around on this site. And consider all the advantages.