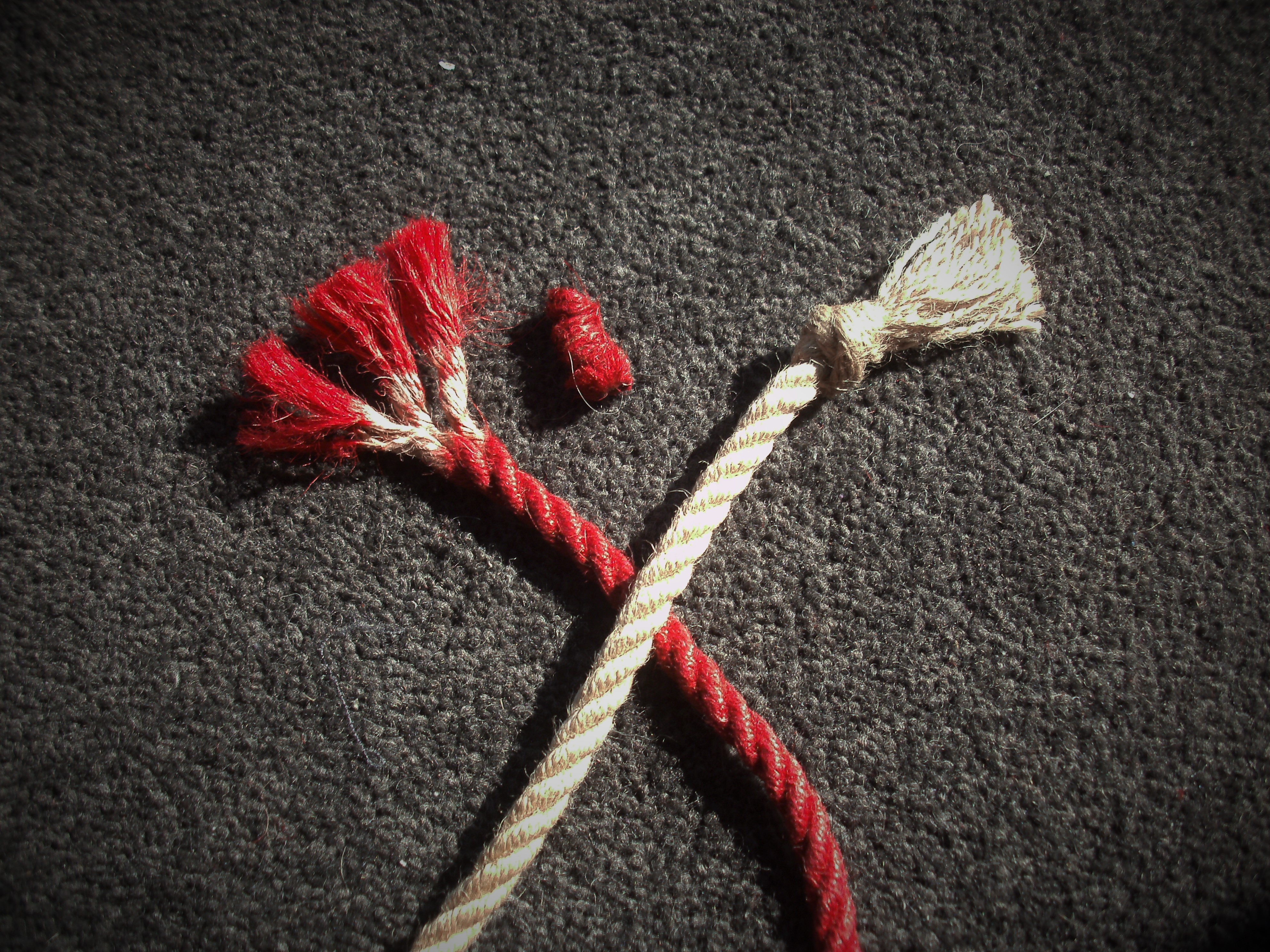 Okay, so this post follows up on a previous post, regarding knotted versus whipped rope ends.
In that post, I detailed why at that time, I was a big fan of whipping rope ends, because it made life easier during the actual tying process, what with the flat profile and the way whipped rope ends didn't catch as I tied someone and slid rope ends beneath other bands of rope, etc.
Turns out there's a huge fucking catch with whipped rope ends.
Last night, I was having a great time, where I was tying up a very, very bad nun. It was a consensual non-consent scene; a reasonably rough one where she protested that she wanted to keep her virtue, and I was playing as the vicious monster that was going to take it from her anyway…
…or worse, make her beg me to do it.
Anyway, in keeping with the theme of the scene, I tied her roughly, forcefully, really putting in the yanks and the pulls as I tied. It was savage and sadistic and forceful. I gave a forceful yank for emphasis as I finished a wrap around her forearms…
… and the whipping slid right off the end of the rope, leaving the end loose and free to unravel.
I didn't give too many fucks just then – I was busy having a great time, after all – but today I'm cleaning up the aftermath of last night and I'm looking at the end of that rope, and I'm not fucking happy.
This isn't the first time recently where this has happened. A couple of weeks ago I was at a play party and was tying with a completely different rope, a five millimeter natural jute, and the same thing happened.
Again, I was tying someone roughly; she's a struggler, and really enjoys being put in her place, and you had better fucking believe I was happy to do that. She enjoyed it, but again, the rope suffered, and I lost an end.
It's been happening more and more often, with rough rope play, and also one time when I was practicing suspension at a rope skill share.
Look, I've had enough, all right?
NO MORE ENDS COMING OFF. I'M GOING BACK TO KNOTS.
Yes, the problem with overhand knots is still a thing.
I really dislike having big knots on my rope, because of the way it interrupts play when the knot gets snagged.  But I also really dislike losing my rope end during a scene. I won't let it impact the scene, but it disrupts my sense of order. Not everything is working the way it's supposed to; and that is knot allowed.
(I'm sorry. I'm so sorry. I couldn't resist the pun.)
So I've been researching. I've been doing it for some time actually, very shortly after I finished the knotted versus whipped rope post, and I've been experimenting with different, smaller knots for the ends of my rope.
There's this whole class of knots that I didn't know about earlier, which involves unraveling the strands of your rope and twisting them into smaller, more tightly compact knots, manipulating each individual strand at a time to create the finished knot. Examples of this include the Thistle Knot and the Matthew Walker knot.
So what I'm doing at the moment is working with a modified Matthew Walker knot; (modified because I can't quite figure out how to make it square yet, but who gives a fuck) it's presented me with a more compact knot, essentially by using the three strands of the rope, tying an over hand knot  in each strand, and then yanking the ends to finish it. Mine aren't nearly as small and square as someone whose been practicing these knots for awhile, but they're presenting me with a useful compromise between whipped ends and the bulkier overhand knot which uses the whole rope as a single strand.
Pros of the Matthew Walker:
Small, compact knot; doesn't snag as much as an overhand knot.
Doesn't seem to come undone (so far) despite the amount of pressure put on it, including some very rough play.
I have "stopper knots" again, which means when I'm joining rope, I don't have to use a sheet bend unless I'm being really cautious. Saves a few seconds
Faster than the Thistle knot and other knots of this type
Cons of the Matthew Walker:
still takes awhile to put each knot into the ends of the rope; whipping and overhand knots are far faster
Bloody tricky to learn; takes a lot of practice when you're learning from youtube tutorials.
I suspect the more I tie these things, the cleaner and more "square" they will look; in the mean time, they do the job, look neat on the ends of the rope, and despite being longer to tie than overhand knots, still present a much lower profile.
It's a bit more work in one evening; But it's to save myself a lot of repeated hassles in future scenes, and who needs extra hassles when you're got a troublesome minx or a bad nun to subdue?